In addition, they also provide Business Software development and support services.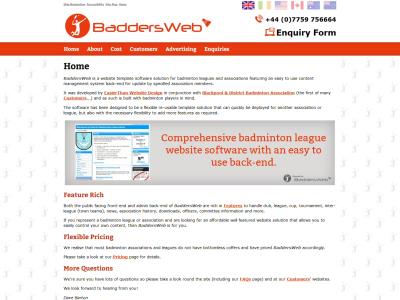 BaddersWeb
BaddersWeb is a Badminton Website Template Software Solution for badminton leagues and associations featuring an easy to use content management system back-end for update by specified association members.
The product features a Badminton League Website Template underpinned by a specific Badminton League Content Management System Database.
Cumbria Mobility
Cumbria Mobility are Mobility Equipment specialists operating throughout much of Lancashire, Cumbria, Dumfries and Galloway.
They are approved Motability dealers and supply an extensive range of Powered Wheelchairs, Mobility Scooters, Manual Wheelchairs, accessories and other living aids.
www.cumbriamobility.co.uk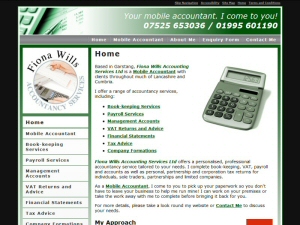 Fiona Wills Accounting Services Ltd
Fiona Wills Accounting Services Ltd are Accountants offering a Mobile Accountant service, including Book-keeping Services, Payroll Services, VAT Returns and Advice, Management Accounts, Company Formations, personal, self assessment and corporation Tax Advice and more throughout much of Lancashire and Cumbria.
www.accounting-fionawills.co.uk
Helen's Chocolates
Helen's Chocolates produce Luxury Handmade Chocolates to buy online in the UK.
Their range includes Select Your Own Chocolates assortment boxes, Sugar Free Chocolates, Chocolate Animals, Luxury Chocolate Hampers, Chocolate Wedding Favours, Handmade Chocolate Dragees and more.
Other treats and local specialities include Old Fashioned Traditional Sweets, Soft Italian Nougat and Lakeland Liqueurs.
www.helenschocolates.co.uk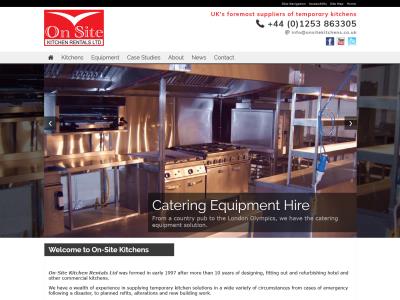 On-Site Kitchen Rentals Ltd
On-Site Kitchen Rentals Ltd are suppliers of Temporary Kitchens and Catering Equipment Hire to professional caterers across all industries, throughout the United Kingdom and Mainland Europe.
Installations include Emergency Kitchens, Events Kitchens, Marquee Kitchens and Mobile Kitchen Hire.
From planned refurbishment of Nursing Home Kitchens and School Kitchens to Construction Site Kitchen Hire, Temporary Prison Kitchens, TV and Film Shoot Kitchens and more.
William Wilson Architectural Mouldings
William Wilson Architectural Mouldings are specialists in the restoration, production and installation of handcrafted Decorative Plaster Mouldings.
Their services include Bespoke Plaster Mouldings, Plaster Moulding Restoration and In Situ Plasterwork Repairs.
In addition, they also stock a range of in-house produced Plaster Centrepieces, Plaster Cornices, Plaster Dado Rails, Plaster Panel Mouldings and more.
www.wilsonmouldings.co.uk
The above website links to third party organisations are provided solely as advertisements.
Nor, by inclusion above, is endorsement implied for any product or service advertised on said websites.